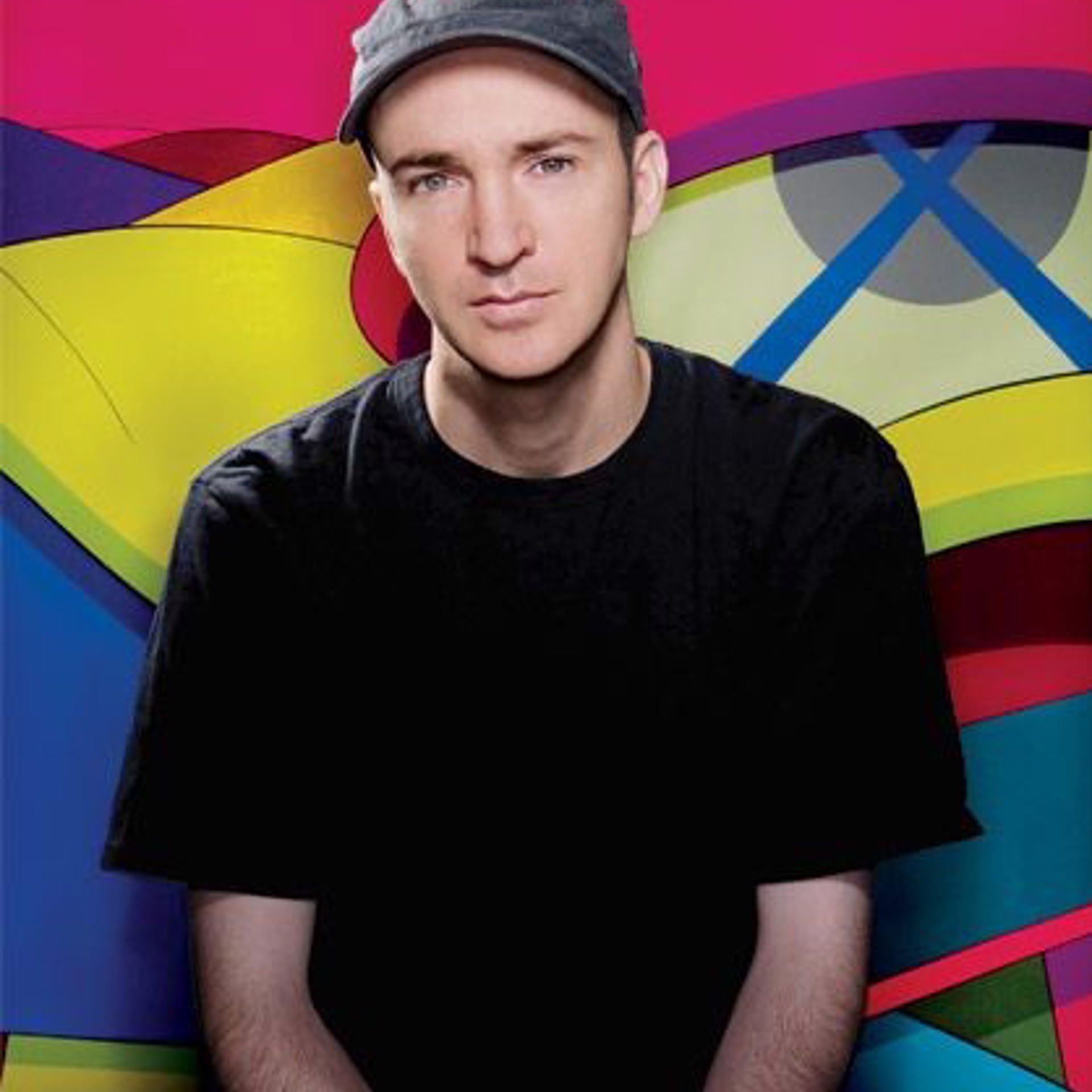 Brian Donnelly (born November 4, 1974), known professionally as KAWS, is an American artist and designer. His work includes repeated use of a cast of figurative characters and motifs, some dating back to the beginning of his career in the 1990s, initially painted in 2D and later realized in 3D. Some of his characters are his own creations while others are reworked versions of existing icons.
KAWS' sculptures range in size from a few inches to ten meters tall, and are made from various materials including fiberglass, aluminum, wood, bronze, and a steel pontoon inflatable raft.
KAWS' influences come from traditional high art painters like Gerhard Richter, Claes Oldenburg, and Chuck Close,[4] and he has been compared to the likes of Andy Warhol for his cross-market appeal and ability to blur lines between commercial and fine art. His work is exhibited in galleries and museums, held in the permanent collections of public institutions, and avidly collected by individuals including music producer Swizz Beatz, internet figure PewDiePie, rappers Pharrell Williams and Kid Cudi, and members of South Korean group BTS. Several books illustrating his work have been published.
The artist lives and works in Brooklyn, New York, creating sculptures, acrylic paintings on canvas, and screen prints while also collaborating commercially, predominantly on limited edition toys, but also clothing, skateboard decks, and other products.
Brian Donnelly was born in 1974 in Jersey City, New Jersey where he attended St. Anthony High School. As a teenager, Donnelly created a tag for himself, KAWS (based on the way the letters looked — the word, in fact, has no meaning), which he painted on the roof of an area building so that he could see it outside while attending class in high school. He went on to attend the School of Visual Arts in New York City, receiving a Bachelor of Fine Arts in illustration in 1996. Following graduation, he briefly worked for Jumbo Pictures as a freelance animator painting backgrounds for the animated series 101 Dalmatians, Daria and Doug.
Moving to New York City in the 1990s, illegal graffiti was the first step of KAWS learning his craft. Animator by day, and graffiti artist by night, KAWS started subvertising billboards, bus shelters, and phone booths, using a skeleton key gifted to him by friend and fellow graffiti artist Barry McGee. Using a key he created for himself, he also started subvertising bus shelters. He has since subvertised in Paris, London, Berlin, and Tokyo.
KAWS' acrylic paintings and sculpture have many repeating images, all meant to be universally understood, surpassing languages and cultures. Some of his characters date back to the beginning of his career in the 1990s: Companion (created in 1999), Accomplice, Chum, and Bendy. His series The Kimpsons subverted the American cartoon The Simpsons.
KAWS' Companion is a grayscale clown-like figure based on Mickey Mouse with his face obscured by both hands, and two bones sticking out of his head. In 1999, the Japanese toy company Bounty Hunter produced and sold a vinyl Companion toy (Mickey Mouse with X-ed out eyes cloning). The figure was adapted into a balloon for the 2012 Macy's Thanksgiving Day Parade, as part of its "Blue Sky Gallery" of balloons. Having already created oversized sculptures in the past, KAWS started to produce further sculptures of his Companion character for exhibitions in Switzerland, Hong Kong, Taiwan, Málaga, London, and China. His practice has earned him major shows at the Brooklyn Museum, the National Gallery of Victoria in Melbourne, and the Yuz Museum in Shanghai, among other institutions. Evoking the sensibilities of Pop artists such as Andy Warhol and Claes Oldenburg, KAWS embraces frequent brand collaborations and addresses the intersection of art and commerce with a playful sense of humor. His work has fetched eight figures on the secondary market.
Read More